HOW DIFFERENT IS THE BRAZILIAN POLITICAL SYSTEM? A COMPARATIVE STUDY
Palavras-chave:
Partidos Políticos, Sistemas Políticos, Financiamento Público
Resumo
This paper provides an up-to-date comparison of Brazil's political system with that of 33 other countries. We show that Brazil is an outlier with respect to the number of effective parties, the total government budget allocated to the legislative power, and the public funds allocated to parties (to fund campaigns and regular party operations). Brazil is also unique in its electoral management body: it is the only country in our sample in which the judiciary both organizes and oversees the electoral process. We also find a positive correlation between total public funding and the total number of effective parties.
Referências
AMES, Barry. The deadlock of democracy in Brazil. University of Michigan Press, 2001.
AVELINO, George and FISCH, Arthur. Money, Elections, and Candidates. Routledge handbook of Brazilian politics, pp. 161-174, 2020.
CATT, Helena, ELLIS, Andrew, MALEY, Michael, WOLF, Peter, and WALL, Alan. Electoral management design. Institute for Democracy and Electoral Assistance, 2014.
COLOMER, Josep M. The more parties, the greater policy stability. European Political Science 11.2, pp. 229-243, 2012.
FALGUERA, Elin, JONES, Samuel, and OHMAN, Magnus. Funding of political parties and election campaigns: A handbook on political finance. IDEA, 2015.
FIGUEIREDO, Argelina Cheibub and LIMONGI, Fernando. Presidential Power, Legislative Organization, and Party Behavior in Brazil. Comparative Politics, 32.2, pp. 151-170, 2000.
LAAKSO, Markku and TAAGEPERA, Rein. "Effective" number of parties: a measure with application to West Europe. Comparative political studies 12.1, pp. 3-27, 1979.
LARCINESE, Valentino. Is the UK parliament too large? British Politics and Policy at LSE, 2010.
MAINWARING, Scott. Politicians, parties, and electoral systems: Brazil in comparative perspective. Comparative Politics 24.1, pp. 21- 43, 1991.
MAINWARING, Scott. Multipartism, Robust Federalism, and Presidentialism in Brazil. In S. Mainwaring & M. Shugart (Eds.), Presidentialism and Democracy in Latin America (Cambridge Studies in Comparative Politics, pp. 55-109). Cambridge: Cambridge University Press. 1997.
MAINWARING, Scott. Rethinking party systems in the third wave of democratization: the case of Brazil. Stanford University Press, 1999.
ORTUNO-ORTÍN, Ignacio, and SCHULTZ, Christian. Public Funding of Political Parties. Journal of Public Economic Theory, 7.5, 781-791, 2005.
PORTUGAL, Adriana Cuoco, BUGARIN, Maurício, and DAL BÓ, Ernesto. Electoral Campaign Financing: The Role of Public Contributions and Party Ideology [with Comments]. Economía 8.1, 143-77, 2007.
SAMUELS, David. Incumbents and Challengers on a level playing field: assessing the impact of campaign finance in Brazil. Journal of Politics 63.2, pp. 569- 584, 2001a.
SAMUELS, David. Money, Elections, and Democracy in Brazil. Latin American Politics and Society 43.2, 27-48, 2001b.
SAMUELS, David. Does Money Matter? Credible Commitments and Campaign Finance in New Democracies: Theory and Evidence from Brazil. Comparative Politics 34.1: 23-42, 2001c.
TROUMPOUNIS, Orestis. On the distribution of public funding to political parties. Economics Letters, 116.3, 367-370, 2012.
ZUCCO, Cesar and POWER, Timothy J. Fragmentation Without Cleavages? Endogenous Fractionalization in the Brazilian Party System. Comparative Politics 53.3, pp. 477-500, 2021.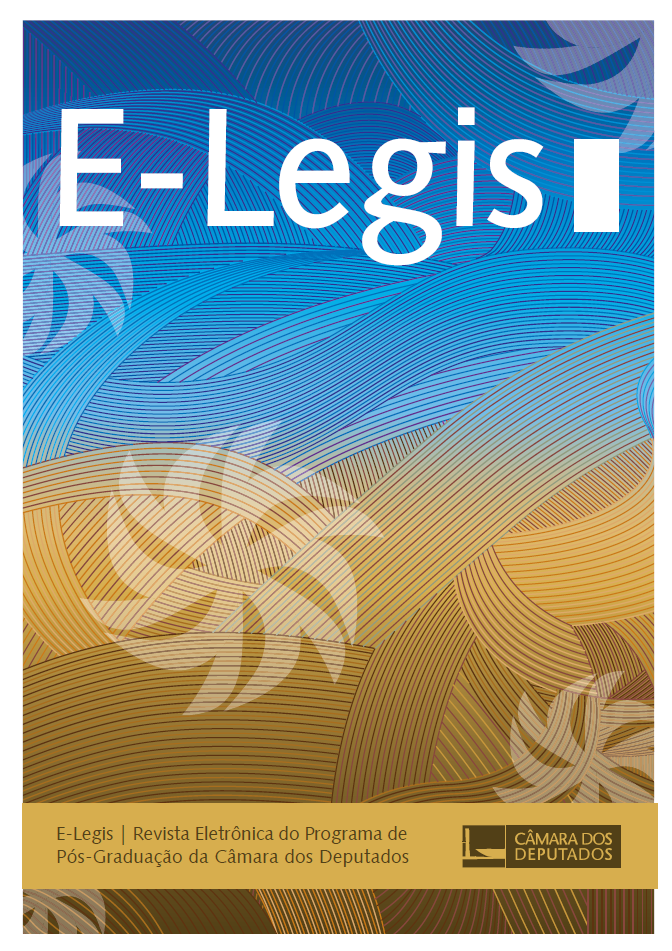 Downloads
Como Citar
Camara, O., Castro, L. de, & Oliveira, S. (2022). HOW DIFFERENT IS THE BRAZILIAN POLITICAL SYSTEM? A COMPARATIVE STUDY. E-Legis - Revista Eletrônica Do Programa De Pós-Graduação Da Câmara Dos Deputados, 15(37), 7–37. Recuperado de https://e-legis.camara.leg.br/cefor/index.php/e-legis/article/view/741
Seção
Dossiê Sistema Polí­tico Brasileiro - CEFOR / IMPA / EPRG-UnB
Licença
Copyright (c) 2022 E-Legis - Revista Eletrônica do Programa de Pós-Graduação da Câmara dos Deputados
Este trabalho está licenciado sob uma licença Creative Commons Attribution-NonCommercial-ShareAlike 4.0 International License.
A E-Legis se reserva o direito de efetuar, nos originais, alterações de ordem normativa, ortográfica e gramatical, com vistas a manter o padrão culto da lí­ngua e a credibilidade do veí­culo. Respeitará, no entanto, o estilo de escrever dos autores. Alterações, correções ou sugestões de ordem conceitual serão encaminhadas aos autores, quando necessário.
Aprovados os artigos, os autores deverão assinar termo de autorização para publicação na Revista E-Legis, em que cedem, a tí­tulo gratuito e em caráter definitivo, os direitos autorais patrimoniais decorrentes.
Os trabalhos publicados passam a ser propriedade da Revista E-Legis, ficando sua reimpressão total ou parcial sujeita a autorização expressa da revista. Em todas as citações posteriores, deverá ser consignada a fonte original de publicação, no caso a E-Legis.
A Comissão Editorial da E-Legis não se compromete a devolver as colaborações recebidas.
___________________________________________________________________________________________________________________
COPYRIGHT STATEMENT
E-Legis reserves the right to make normative, orthographic and grammatical changes to the originals, in order to maintain the cultured standard of the language and the credibility of the vehicle. However, it will respect the authors' writing style. Conceptual changes, corrections or suggestions will be sent to the authors, when necessary.
Once the articles are approved, the authors must sign an authorization term for publication in the E-Legis journal, in which they grant, free of charge and permanently, the resulting patrimonial copyright.
Published works become the property of E-Legis, with total or partial reprinting subject to the magazine's express authorization. In all subsequent citations, the original source of publication, in this case E-Legis, must be consigned.
The Editorial Committee of E-Legis does not undertake to return the contributions received.
______________________________________________________________________________________________________________________
DECLARACIÓN DE DERECHOS DE AUTOR
E-Legis se reserva el derecho de realizar cambios normativos, ortográficos y gramaticales en los originales, con el fin de mantener el estándar culto del lenguaje y la credibilidad del vehí­culo. Sin embargo, respetará el estilo de escritura de los autores. Los cambios conceptuales, correcciones o sugerencias se enviarán a los autores, cuando sea necesario.
Una vez que se aprueban los artí­culos, los autores deben firmar un término de autorización para su publicación en la Revista E-Legis, en el que otorgan, de forma gratuita y permanente, los derechos de autor patrimoniales resultantes.
Las obras publicadas pasan a ser propiedad de Revista E-Legis, y la reimpresión total o parcial está sujeta a la autorización expresa de la revista. En todas las citas posteriores, la fuente original de publicación, en este caso E-Legis, debe ser consignada.
El Comité Editorial de E-Legis no se compromete a devolver las contribuciones recibidas.