GOVERNMENT COALITIONS IN DISTINCT POLITICAL SYSTEMS AND THE EXECUTIVE BRANCH STRUCTURE: AN EXPLORATORY CASE OF COMPARATIVE STUDY
Palavras-chave:
Coalizões de Governo, Poder Executivo, Estrutura
Resumo
The government coalitions are commonly examined regarding their effects on governments. Mostly on government formation process, governability of minority governments and government stability. Nevertheless, it also is likely to have significant effects on the structure and results of the executive branch, as is suggested by discussions of the politics of government organizations. In an exploratory comparative case of study, this article discusses and points out how the trajectory of governments coalitions is related to the trajectory of the executive branch structure, primarily in its increase, regardless of which the political system is.
Referências
ABRANCHES, S. H. H. D. Presidencialismo de Coalizão: o dilema institucional brasileiro. Dados –Revista de Ciências Sociais. Rio de Janeiro, V. 31, n.1, p.1-39, 1988.
BARBOSA, S. C. T. A Organização da administração Pública e suas implicações sobre a implementação de políticas públicas: o poder executivo federal in ARRETCHE, M.; MARQUES, E.; De FARIA, C. A. P. As políticas da política: desigualdades e inclusão nos governos do PSDB e do PT. São Paulo: Editora Unesp, 2019.
BARBOSA, S. C. T.; BORGES, J.; SILVA, N. À Espera de transformações: estrutura do Poder Executivo federal em perspectiva comparada (1995-2018) in CAVALCANTE, P. L. C. O.; SILVA, M. S. O. Orgs. Reformas do estado no Brasil: trajetórias, inovações e desafios, Brasília: Ipea, 2020.
BARBOSA, S. C. T.; POMPEU, J. C. Trajetória recente da organização do governo federal. Boletim de Análise Político-Institucional, 12. Brasília: Ipea, p.13-20, 2017.
BORGES, J. S.; BARBOSA, S. C. T. Ministérios como 'barganha': coalizão de governo e organização do Poder Executivo. Revista do Serviço Público, Brasília: Enap, v. 70, n.2, p. 267-296, 2019.
BOSTON, J. Government formation in New Zealand under MMP: Theory and practice. Political Science, v. 63, n. 1, p. 79-105, 2011.
CÂMARA LEGISLATIVA, Available in: https://www.camara.leg.br/deputados/bancada-na-posse. Accessed in Dez. 2019
CHEIBUB, J. A.; LIMONGI, F. From conflict to coordination: Perspectives on the study of executive-legislative relations. Revista Ibero-Americana de Estudos Legislativos, v. 1, n. 1, p. 38-53, 2010.
DAVIS, G. et al. What drives machinery of government change? Australia, Canada and the United Kingdom, 1950–1997. Public Administration, v. 77, n. 1, p. 7-50, 1999.
DODD, L. C. Coalitions in parliamentary government. Princeton, NJ: Princeton University Press, 1976.
ELECTIONS RESULTS, Available in: https://www.electionresults.govt.nz/. Accessed in Dez, 2019.
GREGORY, R. Theoretical faith and practical works: de-autonomizing and joining-up in the New Zealand state sector. Autonomy and regulation: Coping with agencies in the modern state, p. 137-161, 2006.
HUMPHREYS, M. Coalitions. Annual Review of Political Science, v. 11, p. 351-386, 2008.
JENSEN, K.; SCOTT, R.; SLOCOMBE, L.; BOYD, R.; COWEY, L. (2014). The management and organizational challenges of more joined-up government: New Zealand's Better Public Services reforms. Wellington: New Zealand Government, 2015.
LAAKSO, M.; TAAGEPERA, R. "Effective" Number of Parties: A Measure with Application to West Europe. Comparative Political Studies, v. 12, n.1, p. 3–27, 1979. https://doi.org/10.1177/001041407901200101
LÆGREID, P. Transcending New Public Management: The Transformation of Public Sector Reforms, edited by Tom Christensen, Routledge, 2017. ProQuest Ebook Central, Available in: https://ebookcentral.proquest.com/lib/canterbury/detail.action?docID=429613.
LAVER, M.; SHEPSLE, K. A. Making and breaking governments: Cabinets and legislatures in parliamentary democracies. Cambridge; New York: Cambridge University Press, 1996.
LÖFGREN, K.; MACAULAY, M.; BERMAN, E.; PLIMMER, G. Expectations, trust, and 'No surprises': Perceptions of autonomy in New Zealand crown entities. Australian Journal of Public Administration, v. 77, n. 4, p. 672-684, 2018. DOI:10.1111/1467-8500.12305
LOPEZ, F. G. (Org.) Cargos de confiança no presidencialismo de coalizão brasileiro. Brasília: Ipea, 2015.
MALONE, R. The Executive Branch. In HAYWARD, J. (Ed.). New Zealand government and politics. OUP Australia and New Zealand, 2015.
MARCH, J.; OLSON, J. Organizing Political Life: What Administrative Reorganization Tells Us about Government. American Political Science Review, v. 77, n.2, p. 281-296, 1983. DOI:10.2307/1958916
MULGAN, R. G.; AIMER, P. Politics in New Zealand (3rd ed.). Auckland, NZ: Auckland University Press, 2004
NAGEL, J. H. Evaluating democracy in New Zealand under MMP. Policy Quarterly, v. 8, n. 2, 2012.
PALMER, G. W.; PALMER, M. Bridled power: New Zealand government under MMP. Oxford University Press, USA, 1997.
PARLIAMENT, Available in: https://www.parliament.nz, Accessed in Dez. 2019.
POLLITT, C.; BOUCKAERT, G. Public management reform: A comparative analysis: New public management, governance, and the neo-Weberian state (3rd ed.). New York; Oxford: Oxford University Press, 2011.
PUBLIC SERVICE COMMISSION, Available in: https://www.publicservice.govt.nz/our-work/state-sector-organisations/ . Accessed in: Dez, 2019.
RINGER, J. B. An introduction to New Zealand government: A guide to finding out about government in new Zealand, its institutions, structures, and activities. Christchurch, NZ: Hazard Press, 1991.
RYU, L.; MOON, M. J.; YANG, J. The politics of government reorganizations: Evidence from 30 OECD countries, 1980–2014. Governance, 2019. DOI:10.1111/gove.12458
SCOTT, G. C. Public management in New Zealand: Lessons and challenges. New Zealand Business Roundtable. Wellington, 2001.
SILVA, N.; BARBOSA, S. C. T. Trajetória da ocupação partidária nos setores temáticos da estrutura do Poder Executivo (1986-2016). Texto para Discussão, Brasília: Ipea, 2019.
STATES SERVICES COMMISSION .100 Years of Public Service, 2013. Available in: https://ssc.govt.nz/resources/public-service-centenary/?e596=4278-chapter-8-age-of-reform-1984-1998 .
STRØM, K. Minority government and majority rule. Cambridge [England]; New York: Cambridge University Press, 1990.
SHUGART, M. S.; TAN, A. C. Political Consequences of New Zealand's MMP System in Comparative Perspective. In BATTO, N. F.; HUANG, C.; TAN, A. C.; COX, G. W. Mixed-member electoral systems in constitutional context: Taiwan, Japan, and beyond. Ann Arbor: University of Michigan Press, 2016. DOI:10.3998/mpub.8084028
WOOD, G. A.; RUDD, C. The politics and government of New Zealand: Robust, innovative, and challenged. Dunedin, NZ: University of Otago Press, 2004.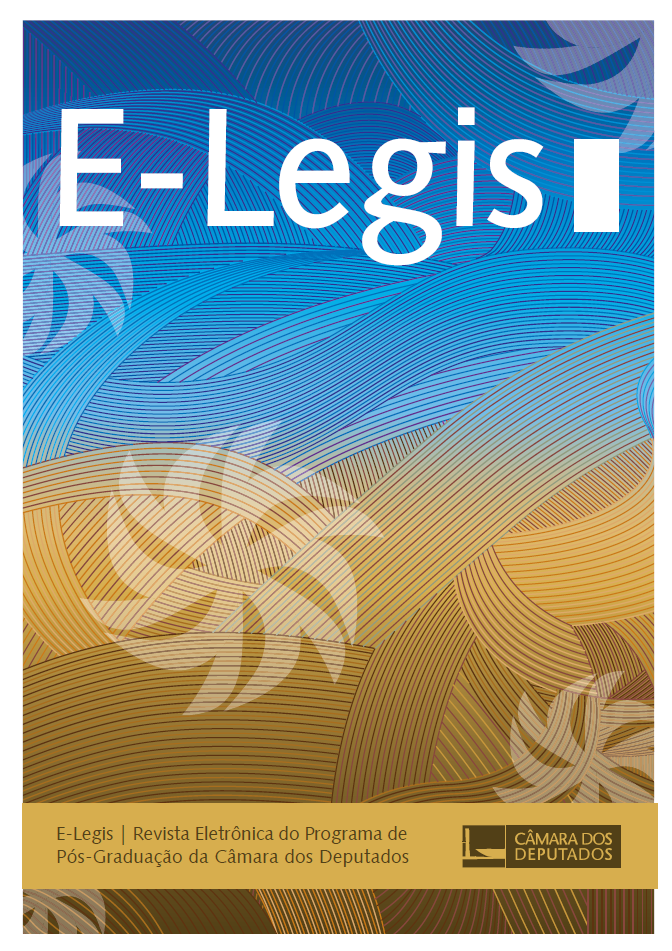 Downloads
Como Citar
Barbosa, S. C. T. (2022). GOVERNMENT COALITIONS IN DISTINCT POLITICAL SYSTEMS AND THE EXECUTIVE BRANCH STRUCTURE: AN EXPLORATORY CASE OF COMPARATIVE STUDY. E-Legis - Revista Eletrônica Do Programa De Pós-Graduação Da Câmara Dos Deputados, 15(37), 38–57. https://doi.org/10.51206/elegis.v15i37.742
Seção
Dossiê Sistema Polí­tico Brasileiro - CEFOR / IMPA / EPRG-UnB
Licença
Copyright (c) 2022 E-Legis - Revista Eletrônica do Programa de Pós-Graduação da Câmara dos Deputados
Este trabalho está licenciado sob uma licença Creative Commons Attribution-NonCommercial-ShareAlike 4.0 International License.
A E-Legis se reserva o direito de efetuar, nos originais, alterações de ordem normativa, ortográfica e gramatical, com vistas a manter o padrão culto da lí­ngua e a credibilidade do veí­culo. Respeitará, no entanto, o estilo de escrever dos autores. Alterações, correções ou sugestões de ordem conceitual serão encaminhadas aos autores, quando necessário.
Aprovados os artigos, os autores deverão assinar termo de autorização para publicação na Revista E-Legis, em que cedem, a tí­tulo gratuito e em caráter definitivo, os direitos autorais patrimoniais decorrentes.
Os trabalhos publicados passam a ser propriedade da Revista E-Legis, ficando sua reimpressão total ou parcial sujeita a autorização expressa da revista. Em todas as citações posteriores, deverá ser consignada a fonte original de publicação, no caso a E-Legis.
A Comissão Editorial da E-Legis não se compromete a devolver as colaborações recebidas.
___________________________________________________________________________________________________________________
COPYRIGHT STATEMENT
E-Legis reserves the right to make normative, orthographic and grammatical changes to the originals, in order to maintain the cultured standard of the language and the credibility of the vehicle. However, it will respect the authors' writing style. Conceptual changes, corrections or suggestions will be sent to the authors, when necessary.
Once the articles are approved, the authors must sign an authorization term for publication in the E-Legis journal, in which they grant, free of charge and permanently, the resulting patrimonial copyright.
Published works become the property of E-Legis, with total or partial reprinting subject to the magazine's express authorization. In all subsequent citations, the original source of publication, in this case E-Legis, must be consigned.
The Editorial Committee of E-Legis does not undertake to return the contributions received.
______________________________________________________________________________________________________________________
DECLARACIÓN DE DERECHOS DE AUTOR
E-Legis se reserva el derecho de realizar cambios normativos, ortográficos y gramaticales en los originales, con el fin de mantener el estándar culto del lenguaje y la credibilidad del vehí­culo. Sin embargo, respetará el estilo de escritura de los autores. Los cambios conceptuales, correcciones o sugerencias se enviarán a los autores, cuando sea necesario.
Una vez que se aprueban los artí­culos, los autores deben firmar un término de autorización para su publicación en la Revista E-Legis, en el que otorgan, de forma gratuita y permanente, los derechos de autor patrimoniales resultantes.
Las obras publicadas pasan a ser propiedad de Revista E-Legis, y la reimpresión total o parcial está sujeta a la autorización expresa de la revista. En todas las citas posteriores, la fuente original de publicación, en este caso E-Legis, debe ser consignada.
El Comité Editorial de E-Legis no se compromete a devolver las contribuciones recibidas.