DESIGUALDADE SOCIAL E FINANCIAMENTO DE CAMPANHAS NOS MUNICÍPIOS BRASILEIROS
Palavras-chave:
Financiamento de Campanha, Desigualdade de Renda, Lobby, Eleições, Brasil
Resumo
A literatura recente de economia política sugere que alta desigualdade de renda faz com que diferentes classes sociais aumentem suas contribuições para campanhas eleitorais. Este estudo examina o impacto da desigualdade nos custos das eleições municipais no Brasil. Modelos econométricos de efeitos fixos estimados com dados de painel para as eleições municipais brasileiras de 2004 a 2016 confirmam que municípios mais desiguais tendem a apresentar eleições mais caras tanto para campanhas de prefeitos quanto para de vereadores.
Referências
ACEMOGLU, Daron; ROBINSON, James A. Why did the west extend the franchise? growth, inequality and democracy in historical perspective. Quarterly Journal of Economics, v. 115, n.3, p. 1167–1199, nov. 2000.
ALESINA, Alberto; RODRIK, Dani. Distributive Politics and Economic Growth. The Quarterly Journal of Economics, v. 109, n. 2, p. 465–490, mai. 1994.
ALI, Mukhtar M.; SHARMA, Subhash C. Robustness to nonnormality of regression F-tests. Journal of Econometrics, v. 71, n. 1, p. 175–205, mar. 1996.
ALIN, Aylin. Multicollinearity. Wiley Interdisciplinary Reviews: Computational Statistics, v. 2, n. 3, p. 370 – 374, mai. 2010.
ALMEIDA, Rodrigo Borges De; SAKURAI, Sergio Naruhiko. Incentivos eleitorais e regras fiscais (não tão) rígidas: novas evidências para os municípios brasileiros a partir da rubrica restos a pagar. Anais do XLIV Encontro Nacional de Economia, p. 1-18, 2018. Natal/RN 12 a 15 de dezembro de 2018.
ARELLANO, M. Computing Robust Standard Errors for Within-Groups Estimators. Oxford Bulletin of Economics and Statistics, v. 49, n. 4, p. 431–434, nov. 1987.
BARON, David P. Electoral competition with informed and uninformed voters.
American Political Science Review, Cambridge University Press, v. 88, n. 1, p. 33–47, mar. 1994.
BARROS, Ricardo. A efetividade do salário mínimo em comparação a do programa bolsa família como instrumento de redução da pobreza e da desigualdade. In: BARROS, Ricardo; FOGUEL, Miguel Nathan; ULYSSEA, Gabriel (Ed.). Desigualdade de renda no Brasil: uma análise da queda recente. Brasília, Brazil: IPEA, 2007. cap. 34, p. 507–549.
BILLOR, Nedret; HADI, Ali S.; VELLEMAN, Paul F. BACON: blocked adaptive computationally efficient outlier nominators. Computational Statistics & Data Analysis, v. 34, n. 3, p. 279–298, set. 2000.
BUGARIN, Mauricio. Inequality and the Cost of Electoral Campaigns in Brazil and Japan. Saarbrucken: LAP LAMBERT Academic Publishing, 2015.
BUGARIN, Mauricio; SAKURAI, Sergio Naruhiko; PORTUGAL, Adriana Cuoco. Inequality and the cost of electoral campaigns. In: BLOFIELD, Merike (Ed.). The great gap: inequality and the politics of redistribution in Latin America. University Park, Pa: Pennsylvania State University Press, 2011. cap. 7, p. 217–244.
BUGARIN, Maurício; TANAKA, Michel Cunha. Inequality and the cost of electoral campaigns: Evidence from the Brazilian 2012 municipal elections. In: TEIXEIRA, Joanílio (Ed.). Essays on Political Economy and Society. Curitiba, Brazil: CRV, 2018. p. 109–128.
CINGANO, Federico. Trends in income inequality and its impact on economic growth. OECD Social, Employment and Migration Working Papers, OECD Publishing, Paris, v. 163, dez. 2014.
DIXON, Philip M. et al. Bootstrapping the gini coefficient of inequality. Ecology, v. 68, p. 1548–1551, out. 1987.
DOWNS, Anthony. An economic theory of political action in a democracy. Journal of Political Economy, University of Chicago Press, v. 65, n. 2, p. 135–150, abr. 1957.
ENGERMAN, Stanley L.; SOKOLOFF, Kenneth Lee. Factor endowments, inequality, and paths of development among new world economies. Economía, Project Muse, v. 3, n. 1, p. 41–109, out. 2002.
FRIEDRICH, Robert J. In defense of multiplicative terms in multiple regression equations. American Journal of Political Science, Midwest Political Science Association, Wiley, v. 26, n. 4, p. 797–833, nov. 1982.
GLASSER, Gerald J. Variance formulas for the mean difference and coefficient of concentration. Journal of the American Statistical Association, Taylor & Francis, v. 57, n. 299, p. 648–654, set. 1962.
GOLDBERGER, Arthur. A course in econometrics. Cambridge, Mass: Harvard University Press, 1991.
JAMES, Gareth. An introduction to statistical learning: with applications in R. New York, NY: Springer, 2013.
KNIEF, Ulrich; FORSTMEIER, Wolfgang. Violating the normality assumption may be the lesser of two evils. Behavior Research Methods, p. 1-15, mai. 2020.
KUZNETS, Simon. Economic growth and income inequality. The American Economic Review, American Economic Association, v. 45, n. 1, p. 1–28, mar. 1955.
LUMLEY, Thomas et al. The importance of the normality assumption in large public health data sets. Annual Review of Public Health, v. 23, n. 1, p. 151–169, mai. 2002.
MOISES, Jose. Democracia e confiança: por que os cidadãos desconfiam das instituições públicas. Sao Paulo, SP, Brasil: EDUSP, 2010.
PARK, Hun Myoung. Practical guides to panel data modeling: A step-by-step analysis using Stata. Tutorial Working Paper - Graduate School of International Relations, International University of Japan, out. 2011.
PERSSON, Torsten. Political economics: explaining economic policy. Cambridge, Mass: MIT Press, 2000.
ROEMER, John. Political equilibrium with private or / and public campaign finance: A comparison of institutions. Cowles Foundation Discussion Paper No. 1409. Cowles Foundation for Research in Economics at Yale University, 2003.
SAMUELS, David. Money, elections, and democracy in Brazil. Latin American Politics and Society, [University of Miami, Wiley, Center for Latin American Studies at the University of Miami], v. 43, n. 2, p. 27–48, jul. 2001.
SAMUELS, David J. Financiamento de campanhas e eleições no Brasil: O que podemos aprender do 'caixa um' e propostas de reforma. In: Reforma Política e Cidadania. Instituto Cidadania/Editora Fundação Perseu Abramo, 2003.
TAYLOR, Jeffrey A.; HERRNSON, Paul S.; CURRY, James M. The impact of district magnitude on the legislative behavior of state representatives. Political Research Quarterly, SAGE Publications, v. 71, n. 2, p. 302–317, out. 2017.
THE Determinants of Campaign Spending in Mayoral Elections. State Local Government Review, [Sage Publications, Inc., Carl Vinson Institute of Government, University of Georgia], v. 46, n. 1, p. 13–27, mar. 2014.
WHITE, Halbert. A Heteroskedasticity-Consistent Covariance Matrix Estimator and a Direct Test for Heteroskedasticity. Econometrica, v. 48, n. 4, p. 817–838, mai. 1980.
WILLIAMS, Matt N; GRAJALES, Carlos A. Gómez; KURKIEWICZ, Dason. Assumptions of multiple regression: Correcting two misconceptions. Practical Assessment, Research and Evaluation, v. 18, p. 11, set. 2013.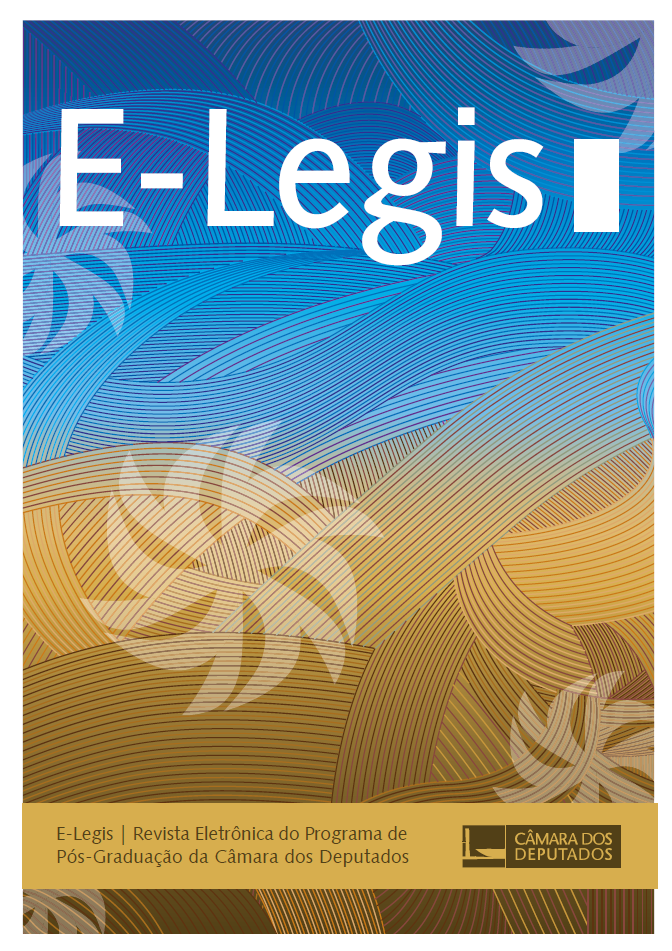 Downloads
Como Citar
Roviello, F. Y. Y., & Bugarin, M. S. (2022). DESIGUALDADE SOCIAL E FINANCIAMENTO DE CAMPANHAS NOS MUNICÍPIOS BRASILEIROS. E-Legis - Revista Eletrônica Do Programa De Pós-Graduação Da Câmara Dos Deputados, 15(37), 262–298. Recuperado de https://e-legis.camara.leg.br/cefor/index.php/e-legis/article/view/740
Seção
Dossiê Sistema Polí­tico Brasileiro - CEFOR / IMPA / EPRG-UnB
Licença
Copyright (c) 2022 E-Legis - Revista Eletrônica do Programa de Pós-Graduação da Câmara dos Deputados
Este trabalho está licenciado sob uma licença Creative Commons Attribution-NonCommercial-ShareAlike 4.0 International License.
A E-Legis se reserva o direito de efetuar, nos originais, alterações de ordem normativa, ortográfica e gramatical, com vistas a manter o padrão culto da lí­ngua e a credibilidade do veí­culo. Respeitará, no entanto, o estilo de escrever dos autores. Alterações, correções ou sugestões de ordem conceitual serão encaminhadas aos autores, quando necessário.
Aprovados os artigos, os autores deverão assinar termo de autorização para publicação na Revista E-Legis, em que cedem, a tí­tulo gratuito e em caráter definitivo, os direitos autorais patrimoniais decorrentes.
Os trabalhos publicados passam a ser propriedade da Revista E-Legis, ficando sua reimpressão total ou parcial sujeita a autorização expressa da revista. Em todas as citações posteriores, deverá ser consignada a fonte original de publicação, no caso a E-Legis.
A Comissão Editorial da E-Legis não se compromete a devolver as colaborações recebidas.
___________________________________________________________________________________________________________________
COPYRIGHT STATEMENT
E-Legis reserves the right to make normative, orthographic and grammatical changes to the originals, in order to maintain the cultured standard of the language and the credibility of the vehicle. However, it will respect the authors' writing style. Conceptual changes, corrections or suggestions will be sent to the authors, when necessary.
Once the articles are approved, the authors must sign an authorization term for publication in the E-Legis journal, in which they grant, free of charge and permanently, the resulting patrimonial copyright.
Published works become the property of E-Legis, with total or partial reprinting subject to the magazine's express authorization. In all subsequent citations, the original source of publication, in this case E-Legis, must be consigned.
The Editorial Committee of E-Legis does not undertake to return the contributions received.
______________________________________________________________________________________________________________________
DECLARACIÓN DE DERECHOS DE AUTOR
E-Legis se reserva el derecho de realizar cambios normativos, ortográficos y gramaticales en los originales, con el fin de mantener el estándar culto del lenguaje y la credibilidad del vehí­culo. Sin embargo, respetará el estilo de escritura de los autores. Los cambios conceptuales, correcciones o sugerencias se enviarán a los autores, cuando sea necesario.
Una vez que se aprueban los artí­culos, los autores deben firmar un término de autorización para su publicación en la Revista E-Legis, en el que otorgan, de forma gratuita y permanente, los derechos de autor patrimoniales resultantes.
Las obras publicadas pasan a ser propiedad de Revista E-Legis, y la reimpresión total o parcial está sujeta a la autorización expresa de la revista. En todas las citas posteriores, la fuente original de publicación, en este caso E-Legis, debe ser consignada.
El Comité Editorial de E-Legis no se compromete a devolver las contribuciones recibidas.